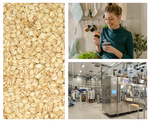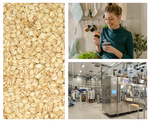 The best bits of local sourcing
Consumers are interested in local food, and local production also brings advantages in terms of business and food security.
Climate change is already hampering food production in different parts of the world. Meanwhile, geopolitical crises bring their own bitter flavour to the soup. Food shortage has even been mentioned in the news, and even if no shortage comes, the price of food will likely rise even more. When times are uncertain, self-sufficiency of food production is even more appealing.

When the world is dealing blows, consumers need something familiar and safe to rely on in their daily lives. In the food industry, this is seen in the popularity of local products, for instance. Many consumers now put food products from their own countries in their shopping carts, and an increasing number of people are interested in local food.

Foodiq's operations are guided by solid from global to local thinking. Instead of building gigantic production facilities, we believe in our own production model, where the costs of factory investments remain at about one-fifth of the usual level. In addition, our agile production process (Multi Layer Cooking, MLC) developed specifically for the production of plant-based foods can be duplicated anywhere in less than a year.

Thanks to local sources, it is easier to ensure that production chains are responsible. In addition, local production promotes confidence in the quality of the products and the purity and freshness of the raw materials, which do not deteriorate because they do not need to be shipped from the other side of the world. Local production is a more transparent choice.
Foodiq's operations are guided by solid from global to local thinking.
We believe that production runs more smoothly and potential problems are solved quickly when things are run by people who know the regional characteristics of the food business and, above all, the local taste – it is the most important factor that guides consumers' purchase decisions in plant-based products.
Thanks to local sources, it is also easier to use the side streams of food production. For example, the plant-based buckwheat snack
Spoothie
developed by Foodiq is made from surplus buckwheat from the Finnish company Virtasalmen Viljatuote. The side streams of the food industry are particularly important in plant-based products, and new business and new jobs can be created around them, all the while reducing food waste.
Sometimes the best bits of local production are almost too close, and the gems are missed. With Foodiq, your product is made in your home village, not in the global village.
Jari Karlsson
Chief Marketing Officer @ Foodiq