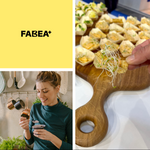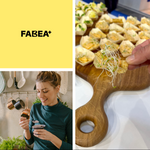 Fabea+ addresses today's food trends, heralding the innovations of tomorrow
Fabea+ is a raw material developed by Foodiq for the needs of the food industry that addresses numerous topical consumer trends.


In the processing, the toxic compounds of the fava beans are destroyed, while fermentation makes the beans suitable even for sensitive stomachs – and achieves a stomach-friendly product. It is no wonder that fermentation is one of the most persistent food trends, one that you can also find in the best of restaurants.

Thanks to the production process, Fabea+ is tasteless and odourless, which eliminates the need to use additives to cover the side taste that sometimes appears in fava bean products. Instead, Fabea+ can be seasoned directly to a pleasant taste. The good taste of a product is the single most significant factor driving consumers' purchase decisions in the food market.

With respect to its nutritional values, Fabea+ powder is excellent, as it has plenty of protein (31%) and fibre (17.2%). In addition, Fabea+ is fat-free, additive-free, gluten-free, lactose-free, GMO-free and vegan, making it suitable for many popular special diets.

So what kind of product is Fabea+ in itself? In fact, it is not a product at all, but rather a magic ingredient that can make your product a future favourite of consumers. We feel that Fabea+'s role is to act as a star maker – we remain in the background and let your Fabea+-enhanced product shine in the spotlight.

The powder-form Fabea+ is an extremely versatile raw material. It has its place, for example, in gluten-free baking, because Fabea+ contains soluble protein, which helps even gluten-free bread to gain an appropriate firmness.

Fabea+ can also be used to make gluten-free dry products, such as pasta, or protein-rich crisps, bars, puddings or other snacks for indulgent moments, just to name a few.

Fabea+ can also be used in traditional meat products or their plant-based alternatives, and it can, for example, render sausages more nutritious. All the while Fabea+ probably makes the product more affordable and therefore more attractive for the consumer. According to trend reports, product price is a significant factor influencing the purchase decision, especially among more mature customers.

Fabea+ is available in its powder form as well as in blocks, pieces and grit. Out of these, the block form is particularly suitable for so-called meat substitutes, such as hamburger patties, sausages and nuggets.


We do not want to make products ONLY for vegans, but ALSO for vegans.
Based on major consumer trends, developing special products for the vegan audience only, for example, is getting old-fashioned. At Foodiq, we want to help develop products that taste and work so well that they are interesting to everyone. We do not want to make products ONLY for vegans, but ALSO for vegans.
As a plant-based raw material, Fabea+ is an ecological choice that is good for people as well as the planet. In fact, the ecological nature of Fabea+ has its roots in the initial production: fava beans bind nitrogen, in turn reducing the need for fertilisation. In addition, growing fava beans leaves the soil in good condition. The fava beans needed to produce Fabea+ come from the fields of our own farming co-operative, rendering the production chain completely transparent, and we also pay the farmers a decent price for their work.
Foodiq and Fabea+ now offer the entire food industry the opportunity to make better and more responsible food – thus making the world a better place.
Fabea+ is available in a limited quantity, so if you are interested in co-operation, visit the Fabea website and contact our sales team.