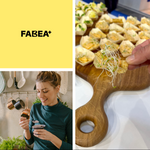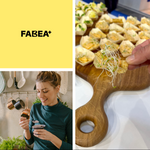 Fabea+ is on the lookout for visionary collaborators to join us in shaping the future of plant-based products!
As the demand for sustainable and nutritious food options continues to surge, Fabea+ is proud to offer a cutting-edge plant-based ingredient that is set to revolutionize the industry. Made from fermented fava beans, Fabea+ boasts low-fat, high-protein, and high-fiber levels, ticking all the right boxes for health-conscious consumers.
We believe that collaboration is the key to innovation, and we're actively seeking like-minded partners who share our passion for creating new age plant-based products. Whether you're a food manufacturer, a product developer, or an entrepreneur with a vision, we invite you to join forces with us on this exciting journey.

By teaming up with Fabea+, you'll gain access to our versatile block format ingredient that can serve as the perfect sidekick to your plant-based protein formulations. Our neutral-tasting Fabea+ block offers endless possibilities for incorporating it into a wide range of products. Let's work together to develop innovative, delicious, and sustainable alternatives that captivate the taste buds of consumers worldwide.

Why choose Fabea+ as your partner? Here are a few reasons:

1️⃣ Nutritional Powerhouse: With its high protein and fiber content, Fabea+ adds substantial nutritional value to your products, meeting the demands of health-conscious consumers.

2️⃣ Sustainability Champion: By opting for Fabea+, you're supporting sustainable practices and reducing the environmental footprint, making a positive impact on our planet.

3️⃣ Versatility at Its Best: Our block format provides flexibility in product development, ensuring easy integration and customization for your unique recipes.

4️⃣ Consumer Appeal: With a neutral taste profile, Fabea+ allows you to create products that deliver the flavors consumers love, without compromising on their dietary preferences.

Join us in this incredible opportunity to shape the future of plant-based foods. Let's combine our expertise, resources, and passion to create exceptional, plant-powered products that will delight consumers and drive positive change in the food industry.

If you're ready to embark on this exciting journey together, let's connect! Reach out to click "Get in touch" button on right. Together, we can make a difference and pave the way for a sustainable and delicious future.