PROFESSIONAL TEAMWORK MAKES NEW PLANT-BASED 2.0 FOOD
Factory Director Petri Kallio leads Järvenpää factory and a revolutionary process
Foodiq's Factory Director, Petri Kallio, brings a wealth of experience and knowledge to the table. In fact, he is a third-generation expert in the food industry. With a long career in the dairy industry and experience building new production processes and developing products, Kallio understands the evolution of the food industry and the need for more innovative and responsible ways of producing food.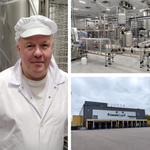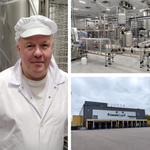 Foodiq Factory Director Mr Petri Kallion and his plant.
Foodiq's innovative approach to food processing and development, particularly through our MLC (Multi-Layer Cooking) technology, is a key component in the transition to the plant-based 2.0 food system. By combining production functions into a single batch process with proprietary hardware, Foodiq can create high-quality, clean-label plant-based products with superior taste profiles.

When Foodiq was looking for a new Factory Director, a common understanding of know-how and thinking emerged.

"Foodiq's MLC technology offers a new way to innovate and experiment with plant-based raw materials, making it possible to create a variety of finished non-dairy products from almost any plant-based source.", Petri Kallio states. "This offers an exciting opportunity to research and experiment with unconventional raw materials and develop new food products that are healthier, sustainable and delicious.", Kallio summarize.

Petri appreciates Foodiq's teamwork culture, where different specialists are valued. "Anyone can come up with a new idea." The staff have professional careers of varying lengths, whereby the know-how of the more experienced ones is transferred to the younger professionals in the early stages of their careers. This creates a living and developing work community where it is easy to feel comfortable.

With Petri's expertise and Foodiq's innovative technology, the company is poised to continue revolutionizing the food industry and providing sustainable, healthy, and delicious options for consumers.