Where does the quality and cost-effective price of a plant-based product come from?
Foodiq's unique non-dairy production process.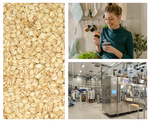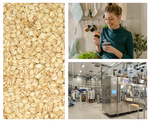 "If we don't have a cow at the other end of the production process, why would we copy processes from dairies?"
Robert Savikko, CEO Foodiq
Foodiq's non-dairy production process and machinery are designed from scratch around plant-based raw ingredients. This is the biggest insight with which we can ensure the manufacture of a truly high-quality product, but at the same time reduce its manufacturing cost.

The compact production machinery can practically produce an unlimited number of different dairy products: plant-based milks, creams, soups, gurts, mayonnaise, soups and so on. Foodiq operates internationally and the range of ingredients suitable for our production is comprehensive - new discoveries are made here and there. From the customer's point of view, it is essential that several different products can be produced on the same line during the day. The same applies to Foodiq's line of dry-based products.
The flexibility of production enables Foodiq to be able to offer exactly what the customer wants.
For us, big machines shine in their absence. The raw ingredients for the dairy products are poured into the mixer, from where the automation processes the products, through pasteurization and for example to fermentation and to the packaging machine waiting just a few meters away.

In addition to flexibility, Foodiq's production capacity for plant-based dairy products also offers a volume of more than 40,000 liters per day.

Foodiq's unique production process and the benefits it offers:
· Production optimized for plant-based raw ingredients > high-quality, clean-label end product
· Scalable production capacity > based on our customers needs, from large companies in the food industry as well as start-ups
· Simple production process > enables moderate production costs
· Suitable to new innovations and ingredients > a pathway to new product launches and business ideas, for example clean-label product from side streams of production
In addition to offering our customers production capacity, Foodiq has ready-made concepts and a Kitchen Lab for developing new products. Want to hear more details?
Want to know more? Contact Foodiq sales:
sales@foodiq.fi
Reading tip!
Article of Foodiq from Finland's most popular business media, Kauppalehti (in Finnish, behind paywall)
from here.